Next on the UTV Offroad Schedule is……..Drum Roll Please……..Rattle and Roll UTV Fest.
All activities will be held at the Fisher's Landing Resort, Yuma AZ. This is located at Martinez Lake in Yuma, Az. There is camping, Rv Spots and rentals available. Be sure to tell them you are with UTV Offroad Adventures. Fisher's Landing Resort is a unique bit of heaven located on the banks of the beautiful lower Colorado River in Yuma Arizona! This amazing resort features the Rio Loco Bar & Grill and a fully stocked General Store.
Fisher's Landing was founded in 1948 by Jess Fisher and the Calzona Sportsmen Club, who had been fishing the banks of the river & lakes for years. Jess Fisher, a member of the Calzona Sportsmen Club obtained a lease from US Fish and in 1951 Jess Fisher took over the lease and Fisher's Landing Resort got it starts with a tiny store and hand powered gas pump. Fisher's Landing Resort has come a long the way over the years, evolving from a rustic fish camp to a world-renowned resort, however the one constant that will never change is the beautiful, glorious sunsets.
You won't want to miss this three-day event. It is history in the making. Martinez Lake is a lake in the southwestern corner of the U.S. state of Arizona, about 60 miles north of Yuma, Arizona on the Lower Colorado River. We will provide guided trails, meals, quick draw poker, corn hole tournament, raffles, and lots of fun, laughs and good times. Designed for all age groups and UTV experience. Come and see what we are all about and meet new and old friends. We will take you on a night ride and guided trail rides all while raising money for local charities.
There will be a night ride that will allow you to see some incredible scenic views of this location after dark.
One ride will take you on a roller coaster ride all the way to Mittry Lake with beautiful views and fun hold on to your pants trail.
The second ride will take you to the Red Cloud Mine. What was once a silver mine has turned into a world-famous haven. The Crystal Collector visited this mine and did an incredible video on the Youtube Channel, check it out. The Red Cloud Mine is in the area called the "Silver District" and started in the 1800's as a silver and lead mine. It is now known for its blood red wulfenite and for nominal fee you too can mine. This is a must see stop!
Can't wait to see you there!
News:
MAKE SURE TO BRING CASH BECAUSE BAR AND MINE ARE CASH ONLY IF YOU WANT TO BUY ANYTHING FROM THEM.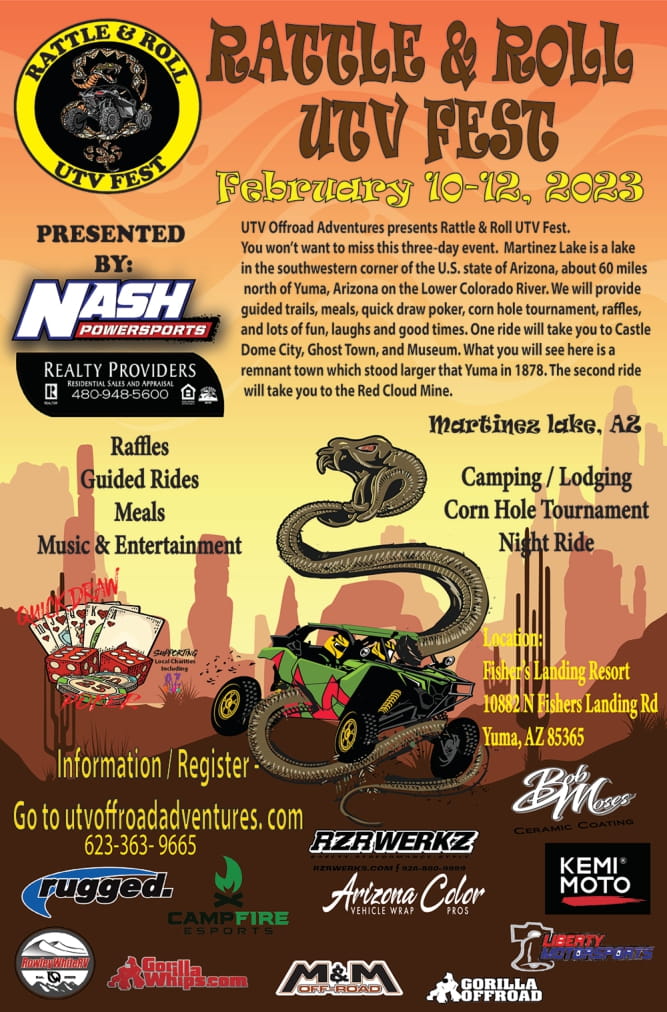 There is a $5 per person per night dry camping available at Fisher's Landing Resort. Kids 12 yrs. and under are free. This is payable to Fisher's Landing upon arrival. If you prefer not to camp, there are also some trailers and homes available for rent, please call 619-889-4913 in advance to reserve.
2023 Schedule